Are you interested in living in an "owner-occupied" home? This cost-effective alternative accommodation -also known as "digs"- usually consists of a room and shared facilities in a home occupied by the homeowner.
While the majority of people renting out a spare room in Ireland will be homeowners, with the introduction of the new council house 'Rent-A-Room' scheme, the person renting the room might not always be the owner of the property.
But before you decide you go ahead and live with a homeowner, have a look at the following frequently asked questions:
Do I have to sign a contract?
Some homeowners may want you to sign a document where both parties commit to respecting specific house rules. This is indeed a great tool to set clear expectations in advance, and it is especially important since you will be living together with the homeowner.
We have created a sample "Agreement between Resident/Lodger and Homeowner" that outlines the most frequent rules and living arrangements:
​How long can I rent a room in a dig/owner-occupied home?
You and your "landlord" should discuss the intended duration of the accommodation period and whether or not that period could be extended. It is fair to manage expectations so you can plan accordingly.
As the homeowner, they may have future commitments and need the room back at a certain date. Some landlords may only be interested in renting their spare room/s for a semester or less than a year, which would suit people looking for medium-term accommodation.
When building your Tenant CV, you can choose the preferred length of lease:
First, click on your profile picture at the top right corner and then on "Settings, Create Profile, Menu".
Under "Create my Tenant CV", go to the first option "Start here", and click on "Edit".
Scroll down until you see "Ideal length of lease".
Lastly, fill in the Minimum and Maximum period.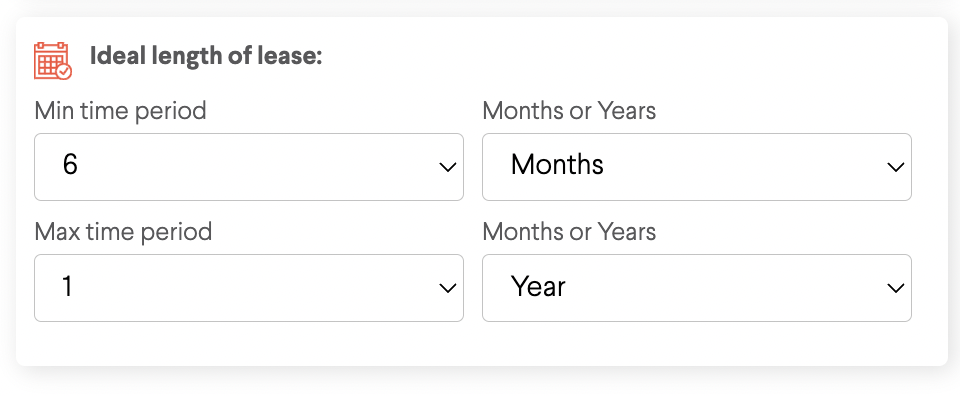 Will I have to pay a deposit?
This is something you will have to discuss with the homeowner, as some of them may include it as a requirement when renting a room in their home.
If your "landlord" operates a damage deposit system, they must be clear about the conditions relating to the deposit and provide you with a receipt. The deposit must be returned at the end of the accommodation period if all goes well. If any damage does ever occur, discuss the situation immediately with the homeowner. This will be less awkward than introducing it as surprise news at the end of your stay.
Will meals be included in the price?
Not necessarily, since this is not a specific requirement. However, some homeowners may want to include this option and charge an extra fee.
The same applies to other extra services, such as a secure parking space, laundry services, bed linen changes, etc. If any additional services are included in the rent, they must be delivered.
And what about utility bills?
This will depend on the agreement you reach with the homeowner. In most cases, you won't need to worry about registering for utility bills, as they will be under the homeowner's name. In any case, it will be easier and cheaper to contribute to the cost of the bills than paying them on your own.
As the resident, you should be given sufficient information in advance about the approximate cost of utility bills. Some homeowners will want to make special considerations for individual situations. For example, if you will be working from home, they could ask you to contribute a certain percentage of the electricity or gas bill to reflect the extra consumption.
Is there any notice period to finish the lease?
Homeowners can use an agreement to predetermine the notice period with the resident. The notice period can vary depending on the length of the overall tenancy and the level of flexibility required by each party. The notice period should be fair and agreed to by both parties prior to the resident moving into the home.
We recommend doing a thorough research on the RTB and the Citizen's Information websites.
Will I have access to any space in the home?
The homeowner must be clear about the areas of the home that are considered common areas and which are off-limits to you as the resident. Generally, a resident would have access to the kitchen, living room, bathroom, back kitchen/utility room, and their private bedroom. However, every household varies; for instance, some homeowners may prefer you to use only a specific toilet in the home.
Click here to create your HomeHak Tenant CV today and have more chances to get selected for digs, rooms or homes in Ireland.