"Owner-occupied" homes are an alternative cost-effective accommodation worth considering, especially if you are house-hunting on your own.
These accommodations -also known as "digs"- usually consist of a room and shared facilities in a home occupied by the homeowner, which means that the "landlord" lives on the premises.
What are the benefits of living in an owner-occupied home?
Living with the owner of the home may not always sound like the most attractive option. However, the many advantages of this type of accommodation make it an alternative worth considering.
You can find more information in this article.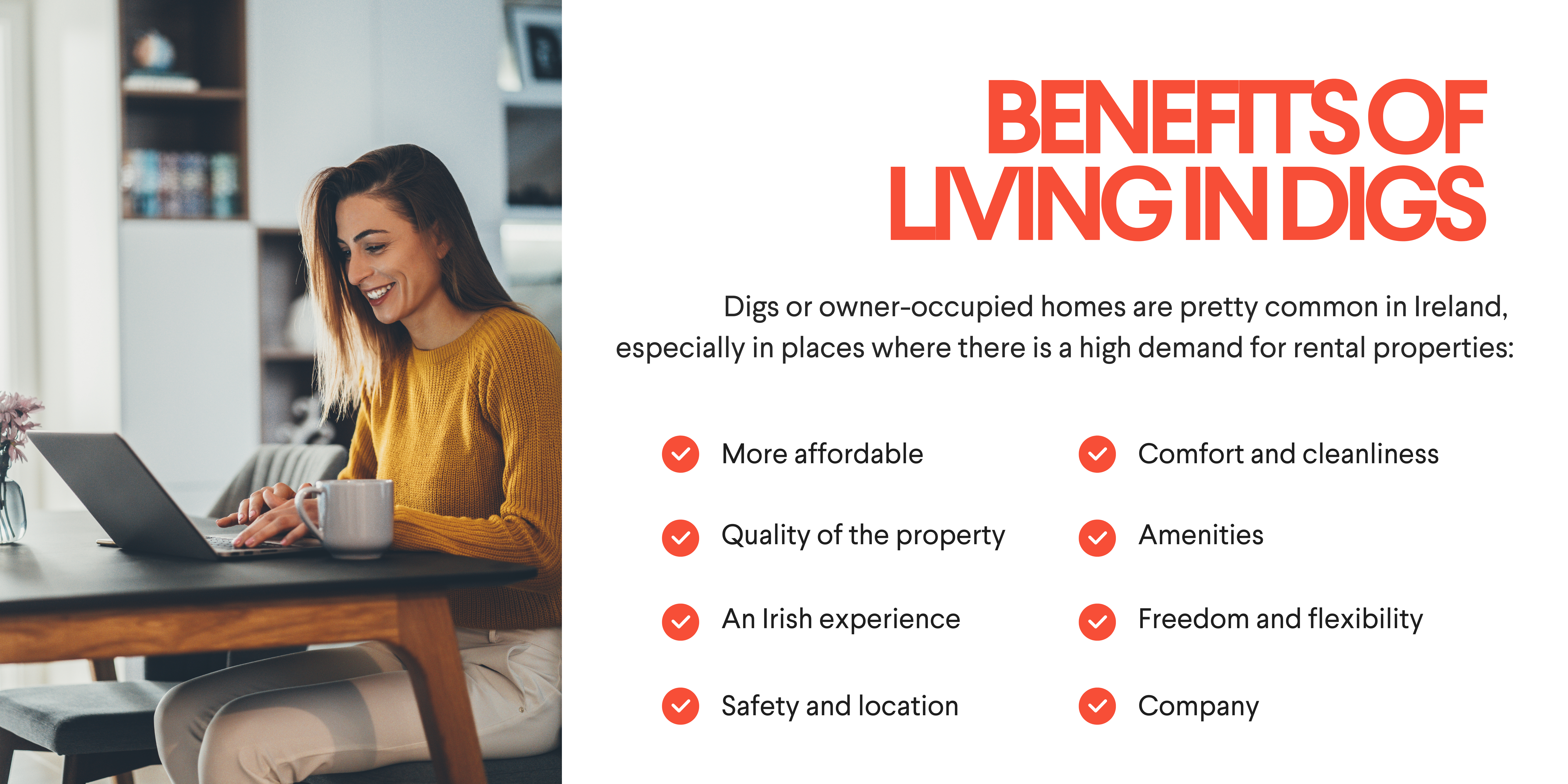 1. More affordable: Digs are an excellent alternative for students that cannot afford purpose-built student accommodations. Depending on the agreement you reach with the homeowner, you may not need to worry about registering for utility bills. It will be easier and cheaper to contribute to the cost of them.
2. Quality of the property: Owner-occupied homes tend to be better maintained than rental properties. As the homeowner lives there, they will quickly notice issues that require fixing and can do a better job at managing repairs.
3. Comfort and cleanliness: While owner-occupied homes may not always be spotless, they are typically better maintained and more comfortable than renting a room in a multi-tenant home, which can often be too small and badly insulated from the cold and noise.
4. Amenities: Owner-occupied homes are more likely to have useful items such as an ironing board, gardening tools, a dishwasher, a microwave, or a dryer. They often include better quality and more comfortable furniture and fittings as well.
5. An Irish experience: Some international students or working professionals will be attracted to the idea of living with an Irish person or family. It could be an opportunity to practise your English skills. Also, they may be able to recommend places to visit and local food.
6. Safety and location: You may want the support and security of living with someone, especially if you are moving to a foreign country. In addition, digs are often located in more desirable neighbourhoods, which can be in nicer and safer areas of the cities.
7. Freedom and flexibility: Some homeowners won't require you to sign a tenancy contract or commit to a long length of stay. You won't have to worry about breaking a lease or signing up for the utility bills in your name. However, we recommend discussing the house rules so everybody knows where they stand.
8. Company: Not only do you get the benefit of living in the company of the homeowner, but in some cases, other spare room/s may be rented to other residents. This could be an excellent opportunity to get to know some new people.
How can I state this preference on my Tenant CV?
- First, click on your profile picture at the top right corner and then on "Settings, Create Profile, Menu".
- Under "Create my Tenant CV", go to the fourth option ("My Desired Home"), and click on "Edit".
- Choose the option "Property and household type" on the left side of the screen.
- In the question "I/We would like to rent", choose "Shared property with owner occupier (DIGS)."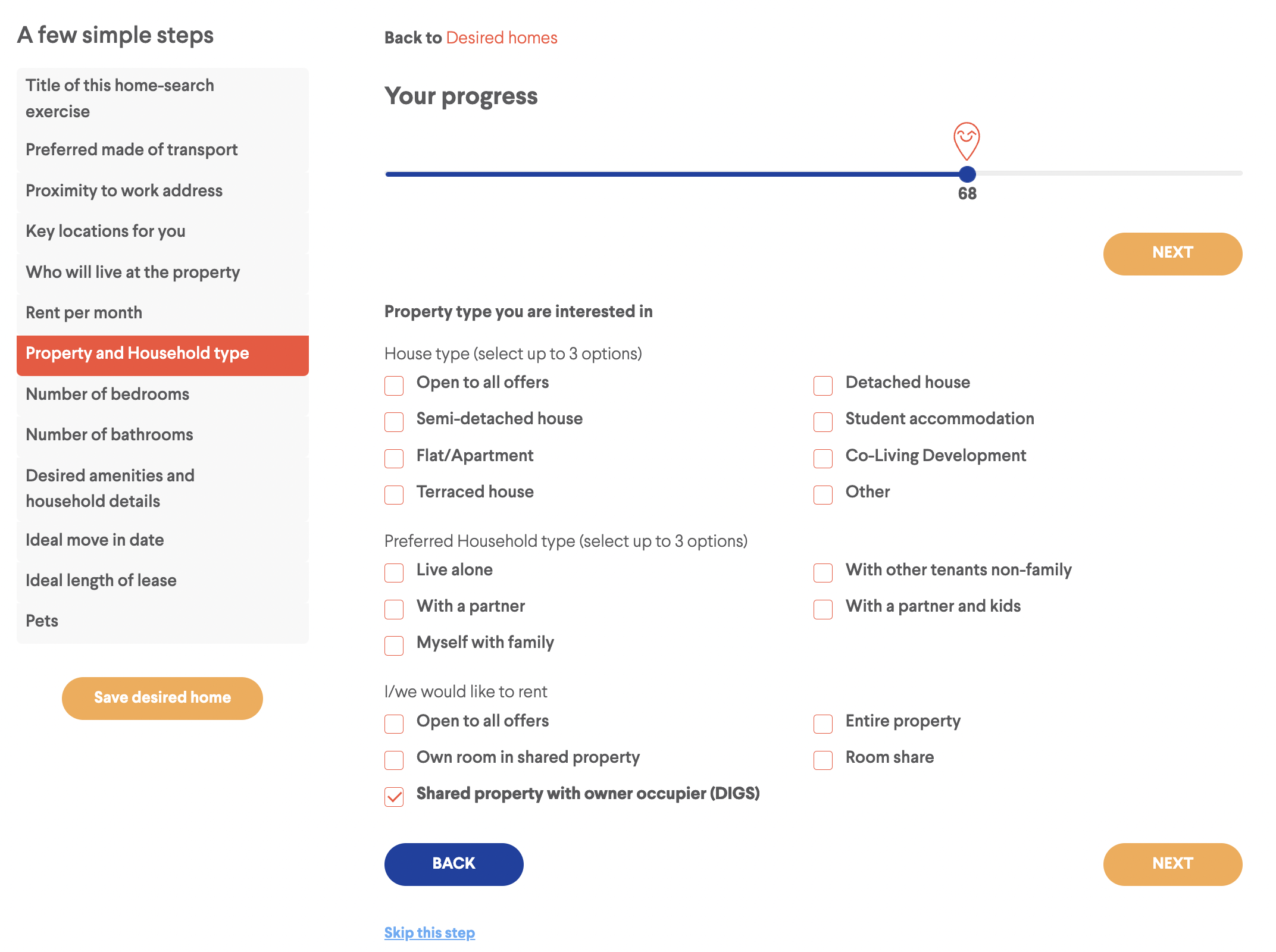 How can I find digs on HomeHak.com?
Go to the tab "Homes". In the Living arrangement dropdown menu, select "Shared with owner occupier (including digs)" if this is an option you would like to be open to. Once you have found a room you are interested in, you can shortlist it, apply for a viewing or ask the landlord a question.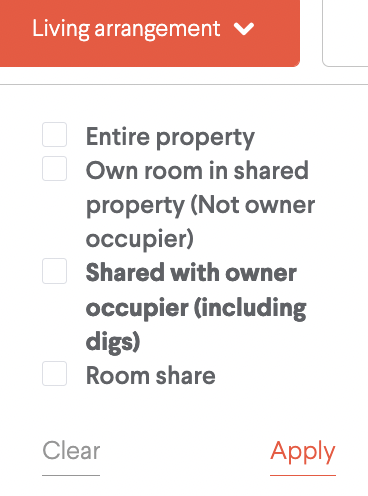 Visit this article to learn more about this type of accommodation and start your HomeHak Tenant CV today.