Improve your chances of being found by landlords and letting agents
A"Good" or better HomeHak Tenant CV contains sufficient information for an accommodation provider to match your needs with their property and for them to be impressed with you.
You can see the progress of your Tenant CV by checking the "Profile Status" on the left side of the screen. It looks like this:

Once you have a "Good", "Excellent" or "Top Class" status for your Tenant CV, you should put it to work for you. Don't keep it a secret. Share the link or QR code of your HomeHak Tenant CV with your connections so they can distribute it. It will increase your chances of finding a home!
Why is it a good idea to share your HomeHak Tenant CV?
"I know somebody who might rent your property. Here is a link to their HomeHak Tenant CV"
People, including your friends and connections, hear about the events that lead to a vacant rental property, usually before the landlord is aware and long before the property is advertised. Such events include:

A

neighbour

announces they

will move away

to a new house, city or country
A

work colleague

decides to

leave for a job in another location

Someone's

friends move in together

, vacating a property
A

homeowner

decides to move away and will

rent out their home

Friends

who rent,

get mortgage approval

to buy a new home
In each scenario, you will want somebody to share your HomeHak Tenant CV with the landlord or letting agent so that you can get selected BEFORE the property is advertised. For this to happen, you need to share your HomeHak Tenant CV with friends and connections who will distribute it for you.
As when job seekers share their LinkedIn profiles or CVs, sharing a HomeHak Tenant CV helps home seekers position themselves at the top of mind of their connections whenever a possible home vacancy is mentioned.
Landlords, homeowners and letting agents can save time, hassle and the costs of advertising when they are presented with an impressive HomeHak Tenant CV for someone looking for a property like theirs.
Get your connections to distribute the unique link or QR code for your HomeHak Tenant CV.
How can you share your HomeHak Tenant CV?
Look at the top of your HomeHak Tenant CV (Public version) and you will see a unique "HomeHak Tenant CV code", a unique "QR code" and an icon for "Copy Link" which copies the url link for your Tenant CV to your clipboard. Whoever uses or clicks these unique items/links will be taken directly to your Preview Tenant CV. So the objective must be to distribute these links to your Tenant CV to as many connections as you can.
HomeHak makes it easy to do this. At the top of your Tenant CV, you will see icons for email and other social media channels. Click these icons to share the link, code and QR code of your Tenant CV with your family, friends, classmates and colleagues, so they help you in your home search.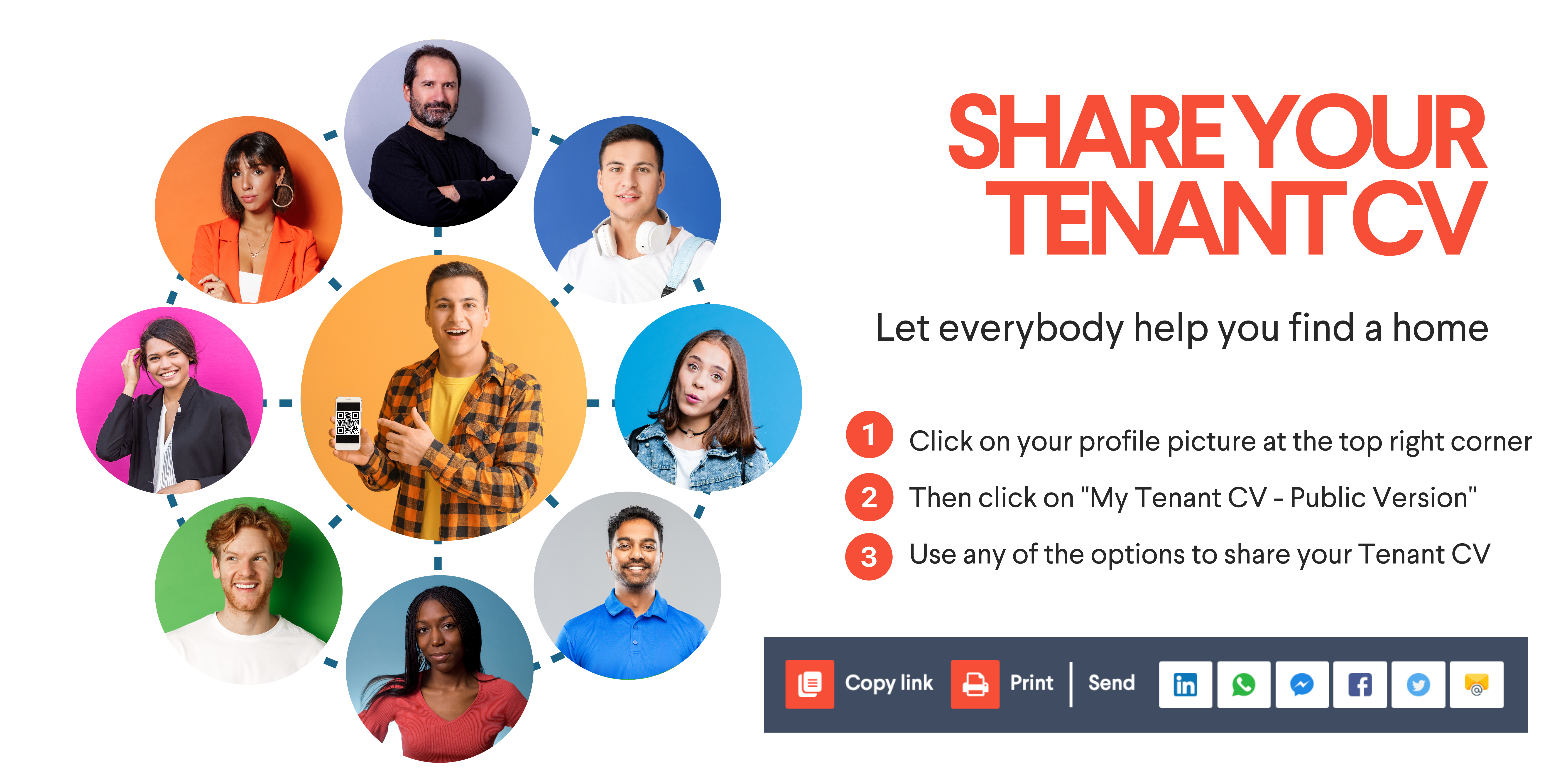 You can also display your HomeHak Tenant CV in your social media channels: WhatsApp chats, Facebook groups, Instagram stories, Gmail footer or Slack chats at work, and even in your LinkedIn profile.
Remember that when you are searching for a home, if you want maximum people to see your Tenant CV and be impressed, make sure your Home-Search status setting on your Tenant CV is Green status so it is "Visible and searchable on HomeHak Tenant Selector".
Control who can see your HomeHak Tenant CV
Click on your profile picture at the top right corner and then on "Home-search status". To select your home-search status, consider the following:
The green tiles will allow you to share your Tenant CV either with anybody or only with members of HomeHak, depending on the option you choose. Importantly, green status means you can be found on HomeHak Tenant Selector by landlords or agents who are searching for a tenant.

The blue tiles allow you to share your Tenant CV with specific people that you send it to. If you choose any of the two blue options, you cannot be found by a person searching on HomeHak Tenant Selector.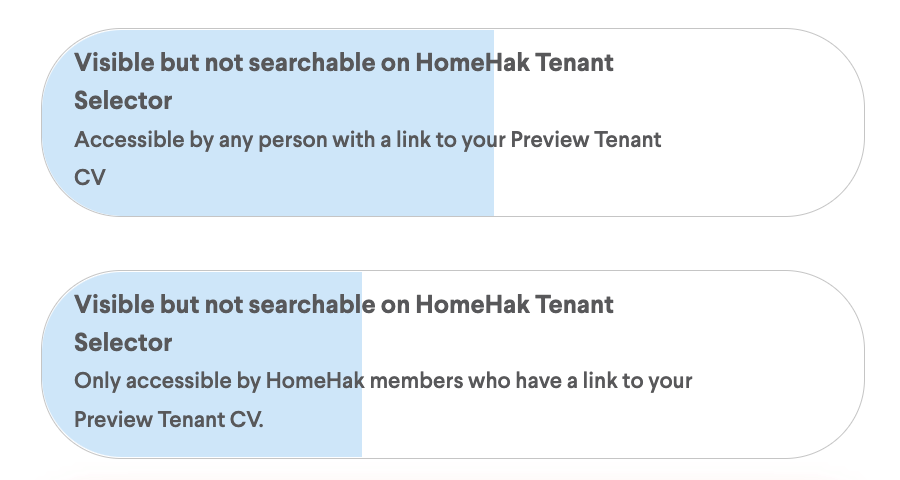 What happens with your data?
You never have to share any details of your profile publicly if you do not want to. You can simply share a link to your HomeHak CV. The landlord or letting agent can then check what they need and request for more details if needed.
You can also keep track of when a landlord or agent reviews your information. In addition, documents are watermarked for your security.
Have a look at this article about how to best control your personal data. Find this, and many other features, at HomeHak for Tenants.