Letting agents, private landlords and local homeowners with available properties or spare rooms can post their accommodation listings on HomeHak or directly select relevant tenants to invite for viewings on the Tenant Selector.
Before doing this, they must verify their ID with Stripe Identity, which involves presenting their passport or driving licence. This helps to discourage "fake landlords" or "fake agents" from advertising a property that does not exist.
HomeHak has many rental options for tenants seeking somewhere to call home. It also allows tenants to state on their Tenant CV the different types of accommodation that suit their needs.
These are the different accommodation options available to your employees on HomeHak.com:
Entire property:
This is probably the most suitable option for any employee looking for a home to move into with other tenants, such as their family, partner or friends.
Exclusively on HomeHak, people looking for a place on their own can also link with other tenants, such as their colleagues, to form a "ready-made household". Applying for homes as a group opens up the range of homes available to apply for. For example, if three of your employees have a monthly rent target of €800, they can apply as a ready-made household and look for a three-bedroom home of up to €2,400 per month.
The co-applicants can apply for properties together near the workplace with an impressive joint application. Have a look at Hanna's Tenant CV to see what the co-applicant feature looks like.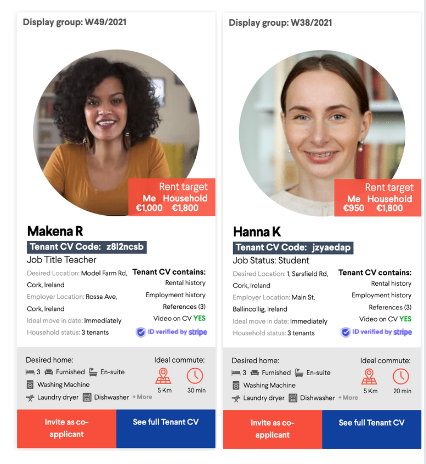 Click here to learn more about how HomeHak tenants can apply for a property with other people.
Own room in a shared property (not owner occupier)
Renting a room in a shared property offers a more affordable alternative to renting an entire home. It helps save money on rent, utility bills and other expenses while still having a private bedroom.
In addition, living in a shared property also provides an opportunity to meet new people, which could be especially appealing for the members of your staff you are new to the country.
Shared with owner occupier (including digs)
"Owner-occupied" homes or digs are an alternative cost-effective accommodation worth considering, especially for anybody who only needs a room for one tenant. These accommodations usually consist of a room and shared facilities in a home occupied by the homeowner, which means that the "landlord" lives on the premises. You can learn more about the benefits of living in an owner-occupied home in Ireland here.
HomeHak tenants members can also choose between full-week or part-week renting options. For instance, employees who commute weekly for work can seek a part-week basis room at a local home, rather than paying for accommodation they are not using at the weekend.
As you can see in the below image, your employees will be able to choose between the different types of properties and households and state it on their HomeHak Tenant CVs. This will help landlords, letting agents and homeowners determine if their property can meet the needs of your employee/s.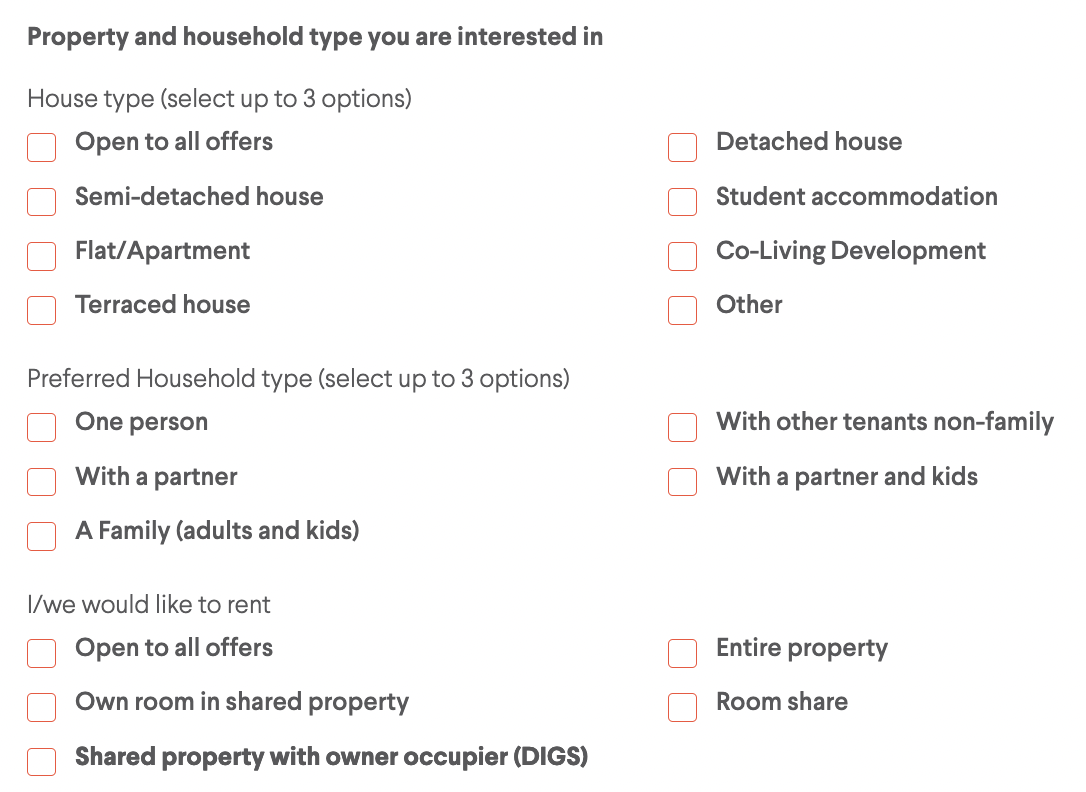 Visit HomeHak for Employers to learn how to help your employees get selected for homes near their workplace.