Advertise as many properties as you want from your agency account for free
Unlike property websites, where you have to pay a fee per ad, at HomeHak, you pay nothing for the first year. After that, you only pay €25.00 per year per member, and can advertise as many properties as you want with no extra cost.
HomeHak's annual membership also allows you to:
Filter, sort, and select the right tenants for the right property in minutes. Visit this FAQ to learn more about how to find suitable tenants on HomeHak.com.
Communicate with the applicants through the platform. With HomeHak's automated messaging tool, you can easily and quickly update them during the letting process.
Store your tenant's leasing documents (contract, inventory) on HomeHak for future uses.
Creating the listing
To advertise a property on HomeHak.com, follow the next steps:
Click on your profile picture at the top right corner.
Go to "My Properties".
Click on "Add new property".
Fill out the following information:
Property Information:

Add all the details prospective tenants need to know about the property, such as the type of accommodation, amount of rent, location, description, number of bedrooms and bathrooms, amenities and available rent period. In order to be able to submit the changes, you will have to fill in all the mandatory fields (price, BER rating, house type, description, parking, etc.

Property images and videos:

Include pictures of the exterior, living areas, kitchen, bedrooms, bathrooms and any features/amenities that make the property unique. You can also upload a video of the property.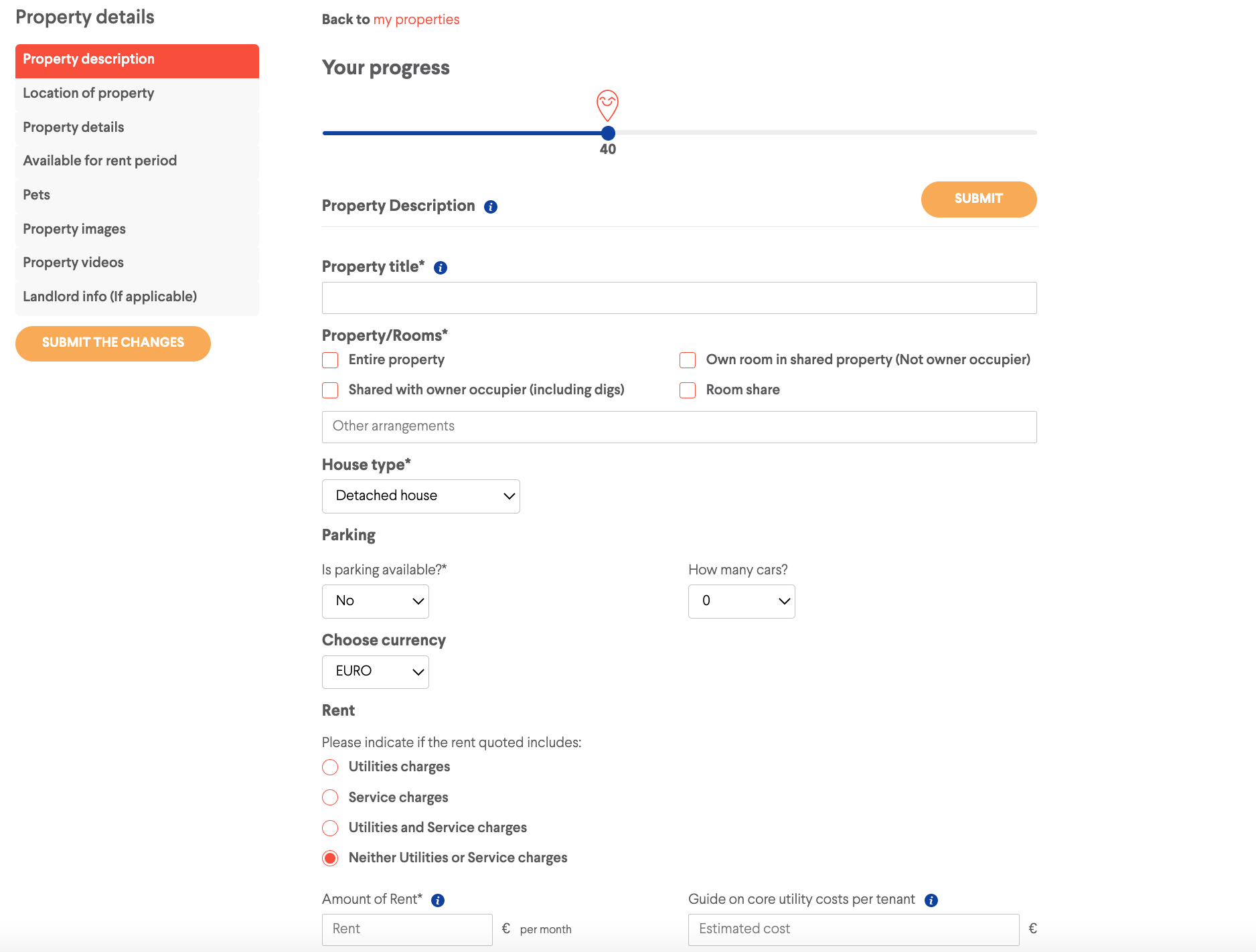 Publishing the property
Once you have uploaded the property, you can advertise it for rent. When you have made your selection, change the status of the property, so all applicants automatically get an update message.
You don't have to delete the listing property when it is gone. Instead, we recommend simply updating the status to "Not advertise for rent", so you have the details on your account if you decide to advertise that property (or one of its rooms) in the future. This way, you can update and reuse your ad any time whenever you want to rent the property again.


Check out this frequently asked question to learn how to stop advertising your properties.
Requesting HomeHak Tenant C
Vs on property websites
A consistent Tenant CV format means no analysis of surplus enquiries, no skimpy email applications, and fewer incoming calls and viewings with mismatched applicants. HomeHak Tenant CVs are good quality, consistent applications with all the information you need in one place.
If you want to quickly filter and sort all applicants to make an informed decision when you post an ad on a property website, make sure to include any of these statements:
"We welcome Tenant CVs from HomeHak.com as applications for this property. Please provide references".

"Please include your HomeHak CV code if available".
Create an agent account on HomeHak.com for free, today.